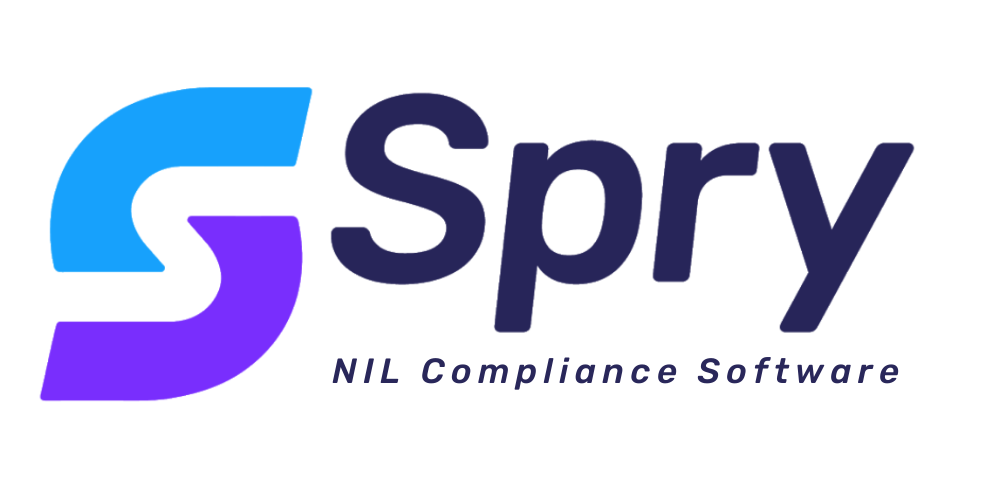 By Lyle Adams, of Spry
Imagine that it's July 1, 2021 and Name, Image and Likeness (NIL) Bills in Georgia, Florida, Alabama, New Mexico, and Mississippi have gone into effect. Depending on the state where they attend college, a student-athlete's value will take on a whole new meaning. The types of opportunities are endless and student-athletes can now capitalize on their NIL and build a brand around themselves. It is up to the individual institution to decide how they will implement strategies that keep their student-athletes and schools compliant. How will it be possible to manage the potential hundreds (if not thousands) of opportunities that will require the Compliance Department to review? The answer is simple, through sophisticated technology. Institutions must prepare themselves with a software program capable of growing and pivoting with the school and Athletic Department as NIL legislation is rolled out (and changing) over the coming years.
Technology will help streamline communication
With every opportunity for a student-athlete, comes a multi-step approval process to ensure that the institution and athlete remain compliant with NCAA regulations. The new processes for NIL have the potential to bury compliance staff. To avoid employee burnout, each institution must have an intricate platform and plan in place before student-athletes return to campus with questions on what opportunities are "ok to say yes to". Streamlining and automating these processes will allow for effective workflows throughout the Athletic Department and entire institution. By having a detailed NIL approval process in place, compliance departments can help student-athletes by providing the necessary resources and material to educate themselves, thus making the approval process more efficient. Institutions will be successful with NIL opportunities when they take the paperwork off the desk of compliance staff and allow all parties (student-athlete, coach, compliance staff, institution staff) to participate in the digital approval process with seamless communication.
Technology will track the approval process / Give visibility
Once student-athletes are receiving NIL opportunities, it is their responsibility to communicate with their institution and navigate the proper channels for approval. User-friendly technology allows for a simple, custom 5-7 questions approval questionnaire that can be completed via the mobile app and sent directly to the administrators inbox for approval. The customized process is specific to each institution allowing administrators to ask the questions that are most necessary to stay compliant. In addition to creating a simplified approval process, there will now be a digital record of all disclosure approvals and denials. Therefore, should any compliance conflicts arise, institutions can quickly pull all historical records to help protect their institution and student-athletes.
Technology can be used to create custom reports
Technology will make it easy to track all NIL deals that occur. Institutions can pull specific data, based on sport or graduating class, to make educated decisions on ways to best serve their student-athletes. The data can be used to generate reports that provide metrics for other student-athletes and may reveal areas of NIL success and concern. These reports may show that student-athletes ask similar questions or engage more with particular topics and therefore an institution can create educational material. Class subjects such as small business planning, tax reporting, or personal branding may be popular requests. Additionally, Athletic Departments can research summary statistics about the amount of money student-athletes are making per transaction. This will allow compliance departments to provide student-athletes data to be used in their own negotiations. With the digital database collecting information on each institution, Athletic Departments can also track booster involvement in NIL opportunities. Having easy access to this data and custom reporting tools will allow Athletic Departments to analyze this data and provide additional resources to best support their student athletes.
Technology will help catch conflicts of interest
Athletic Departments of all sizes rely on sponsor dollars for the success of their programs. Conflicts between school sponsorship and individual sponsorship opportunities create a major concern for institutions today. The ability to identify relationships between existing institution contracts and collegiate-athlete opportunities and quickly/efficiently approve or deny incoming requests will allow Athletic Departments to navigate this new territory. Creating a transparent environment for student-athletes and compliance staff to communicate is critical to the success of moving forward with NIL.
Conclusion
Every other industry is relying on sophisticated technology to keep up with an ever rapidly evolving landscape. Too much needs to be done too quickly while also keeping pace with now expected targeted insights – and that is a great place where technology can be leveraged, finally, in the compliance world. It's your turn!